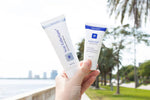 What Is The Difference Between A Scar Gel And A Scar Cream?
When it comes to scar healing from Mohs, biopsy, excision, etc., there's one ingredient any patient will benefit from: silicone. Considered the gold standard in scar management, this ingredient is crucial for maintaining proper moisture levels within a wound, one of the key factors in proper tissue healing.
In fact, we love silicone's scar healing properties so much, we've included it across the board in our scar healing line, from our topical gels and creams, to our silicone sheeting. With two of our products in particular, however一 RejûvaSil Silicone Scar Gel and Scar Esthetique Scar Crème with Silicone一 one of the most common questions we get is this:
What's the difference?
Today we're doing a deep-dive into each of these products, exploring their unique capabilities!
RejûvaSil Silicone Scar Gel
The number one thing to remember about our silicone scar gel is that it mimics the healing mechanism provided by silicone sheeting, a scar-healing favorite among dermatologists and plastic surgeons alike. Our silicone scar gel decreases collagen production by forming a semi-occlusive layer over the patient's scar. We recommend that patients use RejûvaSil in tandem with silicone sheeting so that they get complete coverage for their scar around the clock.
How To Use RejûvaSil
One of the things RejûvaSil is great for is scars in highly visible areas, as the clear gel dries quickly, becoming virtually unnoticeable. When alternating between sheeting and gel, we suggest that patients use scar gel during the day. This regimen allows patients to freely navigate through their day without having to secure sheeting to their scar. Our scar gel is also great for facial scars and is safe for children over the age of three.
Scar Esthetique Scar Crème with Silicone
Long-term scar management is the key to differentiating between our scar gel and scar cream. Even after a scar becomes flat and smooth, it's important to continue the regimen to get the best possible results. Our scar cream specifically targets the color of the scar to complete the healing process. Scar Esthetique contains many of the ingredients common to other scar creams such as onion extract, polypeptides and antioxidants, but with an added twist that makes all the difference: silicone. Our unique formula allows the cream to be easily absorbed into the skin to minimize the appearance of scars and support overall skin health.
How To Use Scar Esthetique
Scar Esthetique is great for scars for which the primary concern is scar discoloration. Oftentimes, it is necessary to first treat your scar with a combination therapy of silicone sheets and gel. That is why we offer all three products in the easy-to-use Scar Heal Kit.
Find The Best Scar Product For Your Patients
Guiding patients towards the right scar management product can be tricky, which is why at Rejuvaskin we've come up with a trio of products that can fit the needs of any patient. If you still have questions, just contact us. We're here to help!
Samples For Your Patients
Interested in obtaining
FREE samples
for your patients? Complete this
form
to request free samples that we will send you weekly! Samples contain coupon codes for patients that can be applied on our website to ensure they get the best price possible.