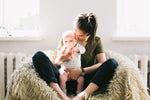 Two Ways Pregnancy Impacts Skin and Addressing Concerns
It's no big secret that pregnancy can have huge impact on skin health, but how pregnancy affects skin often takes patients by surprise. Below, we've called out two ways pregnancy affects your patients' skin and how Rejuvaskin can help.
Stretch Marks
It's estimated that more than 90% of pregnant women experience stretch marks during pregnancy. While pregnancy stretch marks can occur anywhere, they are most prevalent on the abdomen and/or breasts. Stretch marks are light reddish-pink or purple lines caused by sudden stretching of the skin. While some stretch marks disappear on their own after pregnancy, other new mothers experience more permanent stretch marks.
Rejuvaskin's Stretch Mark Cream provides a simple and non-invasive way to diminish the appearance of stretch marks. We use a unique combination of high-end skincare with traditional stretch mark cream ingredients to nourish the skin and reduce the appearance of unwanted stretch marks or help avoid stretch marks before they appear, making it one of the best stretch mark creams available. It makes a great non-invasive option for anyone experiencing stretch marks due to skin stretching, including new and expecting mothers.
You can join our free sample program to provide samples of our stretch mark cream to your patients at no cost. We even include coupon codes for their online purchase. These materials are an excellent bonus to provide in your new patient packets.
C-Section Scarring
More and more moms are delivering via c-section. One of patients' top concerns following a c-section is what to do about the scar. There are so many options out there it can be difficult to decide on a C-Section scar treatment. Luckily, Rejuvaskin offers an intensive line of products designed to reduce the sight of C-Section scarring. The Scar Heal C-Section kit is intended specifically for use on C-Section scars. It includes a Scar Fix Silicone Sheet, RejûvaSil Silicone Scar Gel, and roll of hypoallergenic medical tape, which is everything you need and designed for combatting problem scarring. The kit is an easy-to-follow Scar Management System and it's safe and effective for all skin types.
Whether you're currently healing from a C-Section or are looking to soften your scarring from a previous C-section, you have options for your scarring with Rejuvaskin products.