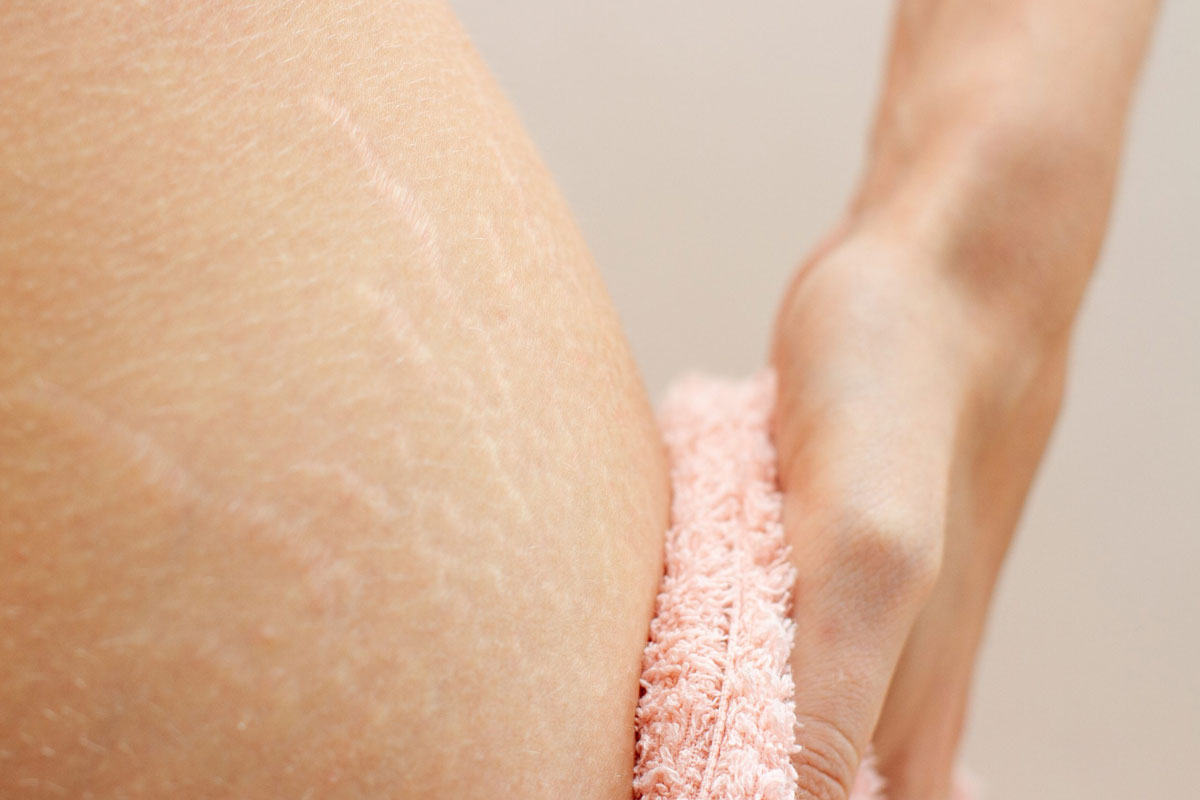 How To Get Rid Of Stretch Marks
Each and every one of us has the right to choose whether they want to embrace their stretch marks or make them less visible. Thankfully, for those who dislike their stretch marks, there are some products out there that can help.
Dealing with stretch marks can be frustrating and sometimes embarrassing, but stretch marks should never keep you from loving your skin. Almost all of us have had a run in with stretch marks at some point in a time - it's a natural result of a growing body and stretching skin. Stretch marks can be a sign of change, a reminder of a pregnancy, or even the battle scars from an experience that was incredibly important to your life. We firmly believe that everyone should feel comfortable in their own skin, stretch marks and all! There's no reason to be ashamed of them. With that being said, we also recognize that each and every one of us has the right to choose whether they want to embrace their stretch marks or make them less visible, and for some people feeling comfortable in their skin means finding a way to get rid of their stretch marks. That's a perfectly normal desire, and there are some products out there that can help.
Stretch marks typically occur as parallel bands of discoloration on your skin. They look different from your skin in both color and texture, and can sometimes cause discomfort or itchiness. While stretch marks are commonly associated with pregnancy, the truth is that anyone can get them. Changes in weight and height can cause stretch marks, as can adrenal gland problems. They can occur in all genders, races, and ages. Although, they are most common in Caucasian women. Heredity is often a factor as well.
The skin consists of three layers: the epidermis, dermis, and hypodermis. The dermis is the middle layer. It is the thick layer of skin that contains capillaries, nerve endings, hair follicles, sweat glands etc. If the dermis stretches due to weight fluctuation, and if there is an increase in cortisone in your system, then you may begin to notice stretch marks. Cortisone is a hormone produced by your adrenal glands, and it can cause skin to lose it elasticity. That is why some adrenal conditions can contribute to the growth of stretch marks.
There are plenty of stretch mark creams on the market, but looking for the right ingredients is key to finding the best stretch mark cream for you. Rejuvaskin Stretch Mark Cream has cocoa butter, Ceramide-2, Aloe Leaf, and shea butter. These ingredients hydrate and soothe your skin to help prepare it for growth. Another key ingredient in Resolve is Palmitoyl Hexapeptide-12. This key component help increase skin strength and elasticity. Put all of this together with some other great stuff and you have an unique formula that specializes in stretch marks.
Another great feature of this stretch mark cream is that it is completely paraben-free. That means it is safe to use after the first trimester of pregnancy. Using the cream early on will help condition the skin and prevent stretch marks before they even become an issue. It is great for expecting mothers.
In order to get the best effects from your stretch mark treatment, make sure to apply creams regularly. It can help to incorporate them in to a daily regimen, so that you do not forget to apply. Using the cream 2-3 times daily is the best way to improve or reduce the appearance of stretch marks.
Rejuvaskin Stretch Mark Cream is a great, non-invasive, non-surgical, yet effective way to alleviate stretch marks and the anxiety or embarrassment that may come along with them. Don't ever let stretch marks hold you back. You deserve to be confident and happy in your skin, no matter what!