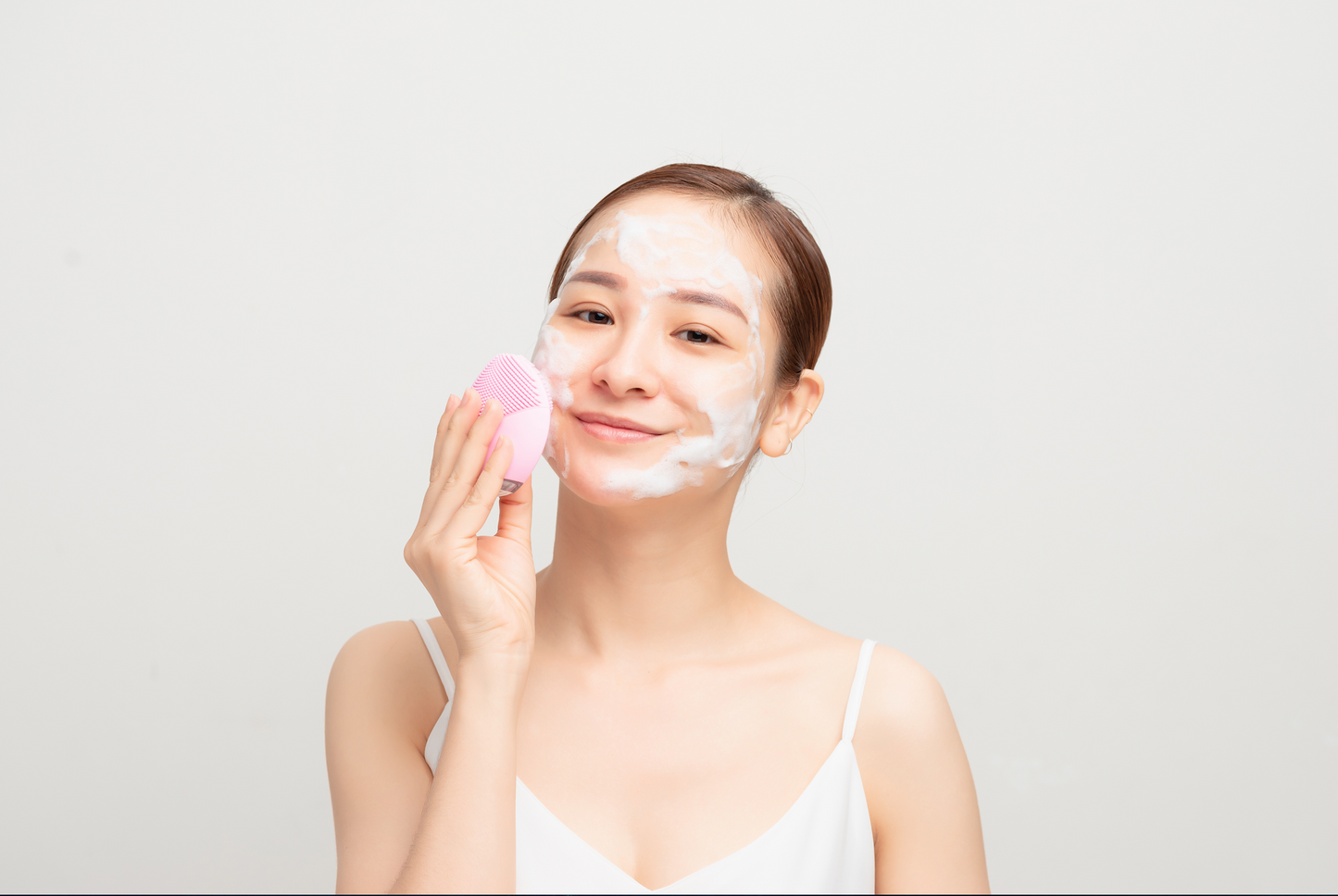 Do I Really Need A Cleansing Brush?
Whatever skin type you have, cleanser is an essential step. Some people even add in a cleansing brush to their routine. Let's talk about how to use a facial cleansing brush, the power of a gentle face cleanser, and more!
You probably already know why facial cleansers are a critical component of your skincare routine, but you may not know if a facial cleanser brush might be right for you. In this post, we'll take a look at the best cleansing brushes, how to use a facial cleansing brush, and answer the common question, are cleansing brushes good for your skin?
Are Cleansing Brushes Good For Your Skin?
The answer to this question is not going to be universal. Some individuals have extremely sensitive skin that does not react well to even gentle abrasion. If you think your skin falls into this category, approach brush cleansing with caution. You may also have to work a little bit harder to find a brush head that works well for you.
If your skin is incredibly dry and flaky, you may notice some benefits to brush cleansing, as it tends to exfoliate as well as cleanse more deeply.
The Pros & Cons of Cleansing Brushes
As mentioned above, cleansing brushes can be harsh on the skin一 especially if you overuse them. However, they can help by tightening the skin, improving skin texture, and exfoliating. You may even want to look into combining double cleansing with using a cleansing brush.
Do You Know How To Use A Facial Cleansing Brush?
If you're wondering how to use a facial cleansing brush, it's actually pretty straightforward. First, you'll need to make sure that you're using a brush head that is suitable for your skin type. Next, run the clean brush head under warm一 not hot一 water to get it wet. You'll want to apply a small amount of your favorite facial cleanser to the brush head, then begin cleansing. Start with 10-15 seconds on each area of your face. Do not cleanse for more than two minutes.
Once your face is clean, rinse the excess cleanser off with warm water and pat your face dry. Follow up with any moisturizers, toners, or serums that normally come after cleansing in your routine. Keep an eye on your skin when you start brush cleansing; some people can only do this once a week without irritating their skin.
What Are The Best Cleansing Brushes?
The best cleansing brushes are the ones that work best for your skin type. There are brushes without removable heads that simply vibrate and have silicone bristles. There are also brushes with soft, gentle synthetic bristles. You may also be interested in a cleansing brush that has natural fibers in the bristles or in a simple rotating pad.
The Best Cleansing Brushes Have:
A nicely weighted handle

Several interchangeable brush heads with at least one silicone bristle head

A good charging stand

A strong motor with multiple speed settings

An easy-to-clean design
What Cleanser Should Be Used With A Brush?
Just like when you select a cleanser for your daily routine, you should select a cleanser for your brush that will be suitable for your skin. You can use the cleanser you currently have; however, for a more deep-cleaning cleanse, check out our Anti-Pollution Facial Cleanser. This cleanser is gentle on the skin but incredibly tough on dirt, pollutants, irritants, and oils.