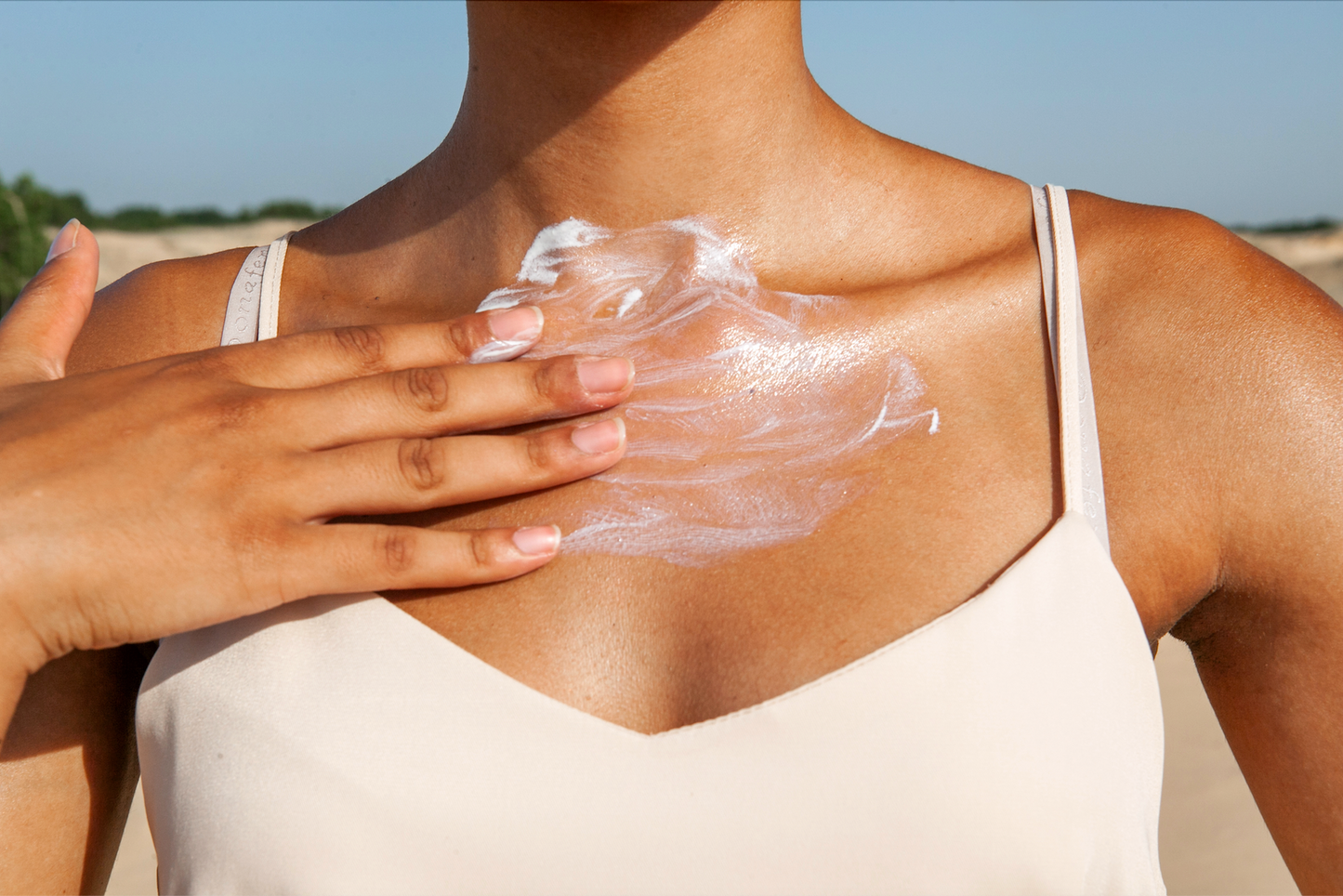 Where Should I Use My Advanced Firming Cream?
People often ask us where to use firming cream— our Advanced Firming Cream was designed especially for the neck & chest areas, but can be used really anywhere you'd like on your body! Let's go over the benefits of this firming cream for the body, how to use firming cream, and more!
Firming creams are a great option for renewing tired, dried out, crepey-looking skin— if you're using the right firming cream that is. Our own Advanced Firming Cream is packed with nourishing ingredients that work in tandem with your body's natural processes that cause signs of skin aging (such as sagging skin, crepey texture, dryness, and wrinkles) and helps restore what it needs for smoother, hydrated skin.
But where exactly should you use a firming cream for the body for effective results, and how do you use a firming cream in the first place? We're asked questions like this all the time— so let's take a look!
Where To Use Firming Cream
If you take a peek at the bottle, our Advanced Firming Cream explains that it was made for the "neck, décolleté, and body" — meaning we made it with your neck and chest area in mind (two of the most common areas for crepey, sagging skin). But really, you can use it anywhere on your body!
Here's a few of people's favorite spots to use Advanced Firming Cream:
Neck

Chest

Hands

Arms & legs

Stomach 
It's all up to you!
Common Questions About Firming Cream:
Let's explore some of the other common questions we get about firming cream— and learn how to get the best results!
How Do I Get Rid of Sagging Skin?
First and foremost, keep in mind that sagging skin is a normal part of life. Everyone's skin will stop producing collagen and elastin between the ages of 20 and 30. After this point, normal degradation of these structural components will start to reveal sagging skin and wrinkles.
We can slow and limit this process by supplying the skin with collagen, elastin, and ingredients that stimulate their production. This is where supplements and creams come in.
What Does A Firming Cream Actually Do?
A firming cream is a skincare product designed to improve the smoothness of our skin. Skin is naturally elastic and flexible, but repeated motions and rapid growth can cause wrinkles and stretching.
Our Advanced Firming Cream contains ingredients that support collagen and elastin and slow their degradation. These components help your skin "bounce back" for a natural, firm, and healthy appearance.
Can I Also Use A Firming Cream For The Body On My Face?
Firming creams are specially designed for their own unique applications. You'll find facial firming creams and general body firming creams. It's important to note which type you pick up because facial firming creams are often much different than body creams.
Which leads us to the question: can I use a body firming cream on my face as well?
We get it— it's easier to just get one product instead of two (or several). But it's important to keep in mind that the skin on your face is pretty different from the rest of your body. Typically, the skin on your face is thinner and much more sensitive than the rest of your body. You can try a body firming cream on your face, but it might feel a bit heavy for your facial skin's light nature.
This is why we don't really recommend using the Advanced Firming Cream on your face— instead you might want to try out our Dermacosmetics retinoid products! These are a much more effective, lightweight option specifically formulated for the face!
How Do You Use A Firming Cream?
Firming creams are relatively easy to use. They are non-steroidal, so you don't have to worry about using too much in a day. Simply apply your firming cream during a time when your skin is moisturized well – like after a bath or shower.
How Do Firming Creams Work?
Most firming creams use a combination of two methods to produce effects:
Moisturizing the skin and keeping moisture in to plump it up.

Stimulating collagen and elastin production with ingredients like retinol, peptides, polypeptides, and ceramides to help reverse some of the sagging.
What's The Best Firming Cream For The Body?
In general, you'll want to look for the following ingredients in your firming cream:
Antioxidants

Cocoa & shea butter

Fruit extracts like vitamin C, herbal extracts, and enzyme Q10.

Caffeine

Essential oils

Retinol

Peptides

Polypeptides

Ceramides
Here at Rejuvaskin, we've designed an Advanced Firming Cream for your body that has a thick application, containing ceramides, polypeptides (specifically Palmitoyl Hexapeptide-12), cocoa & shea butter, and various herbal extracts like calendula, symphytum, and arnica montana.
Above All, Don't Forget About The Rest of Your Body!
As we age, we tend to hyperfocus on our faces – after all, this is what most people see of us! However, the rest of our body deserves just as much love and care. With firming creams like our Advanced Firming Cream, you can give your body the moisturization and attention to sagging that it deserves.