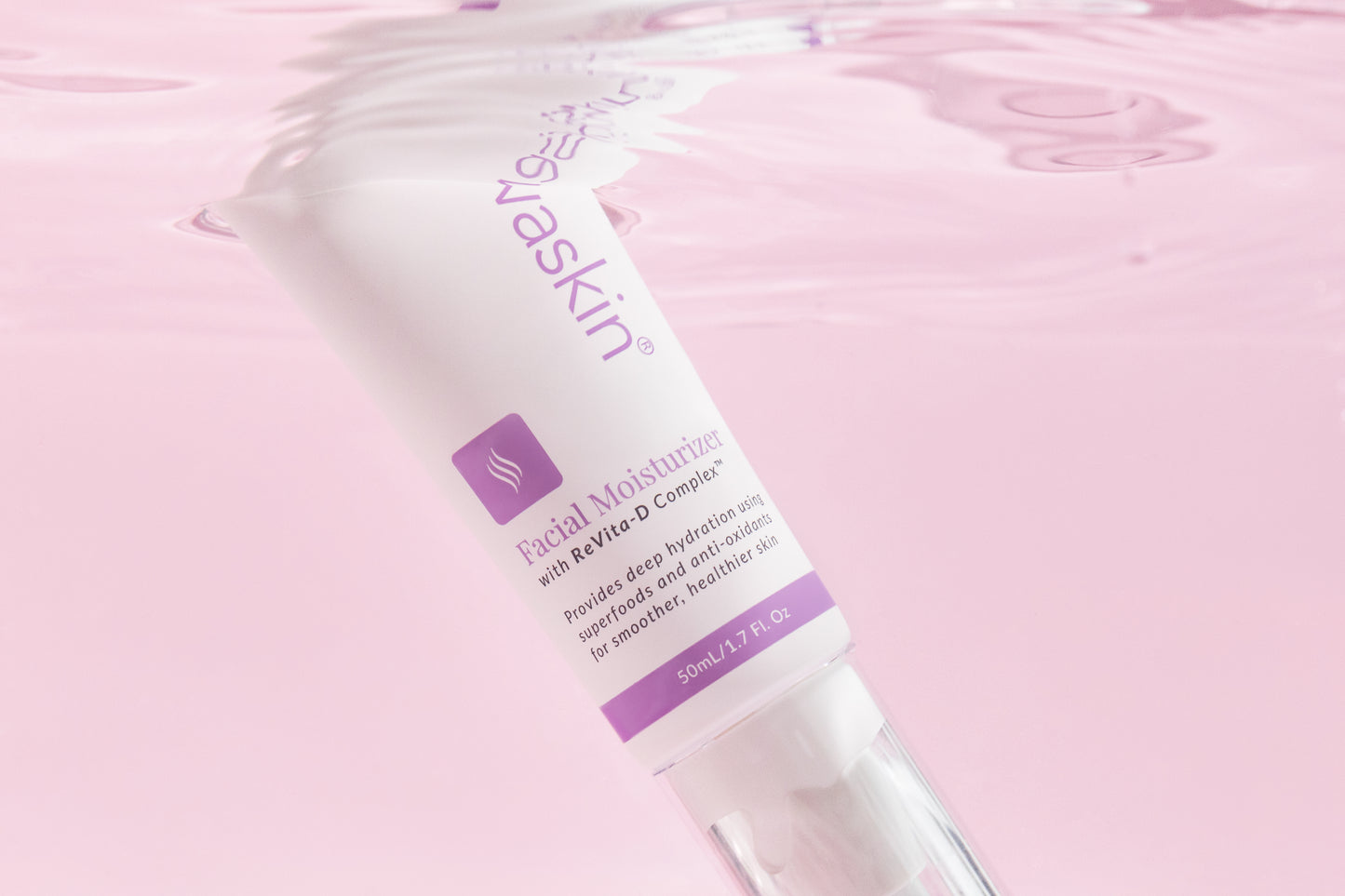 What's In Our Rejuvaskin Facial Moisturizer With ReVita-D?
Learn about the natural moisturizing ingredients in our brand new ReVita-D Facial Moisturizer, part of our Rejuvaskin Dermacosmetics line! We'll discuss what to look for in a moisturizer, and how our seals in deep hydration with a lightweight finish.
No skincare routine is complete without a good moisturizer. With the release of our brand-new Facial Moisturizer as part of our Dermacosmetics Lineup, we thought an ingredient spotlight was in order! We've included plant extracts like sunflower and avocado to create a gentle powerhouse of moisturization! In this blog, we'll cover these and more natural moisturizer ingredients, what to look for in a moisturizer, and what the antioxidant moisturizer benefits are for our new Facial Moisturizer!
Ingredients In Our ReVita-D Facial Moisturizer
If you're looking for the perfect moisturizer for your normal to sensitive skin, it can be hard to sift through list after list of ingredients, searching for a product that will be both gentle and effective for your skin type. Here at Rejuvaskin, we're dedicated to helping make your life easier – while also helping your skin at the same time. This is why we've put together a simple, no-fuss facial moisturizer, designed to be used alongside our Retinoid Face Serum and Retinoid Eye Cream.
ReVita-D Complex
A proprietary blend of superfoods and botanicals, our ReVita-D complex is what's responsible for moisturizing your skin so well! Let's take a look at the key, natural moisturizer ingredients in the ReVita-D complex:
You might love coffee for its ability to wake you up in the morning, but it actually has a lot more going for it than that! Coffee extracts are potent antioxidants, and as we discussed in a previous blog,
Why Your Moisturizer Should Include Antioxidants
, there are numerous antioxidant moisturizer benefits. For one, those little molecules can help our skin fight natural aging. For this reason (and because coffee extract can also help to reduce inflammation), we have included coffee extract in our
Facial Moisturizer
.
Sunflowers are not only beautiful and fun to grow, but they are also jam-packed with skin-healthy ingredients like Vitamin E & linoleic acid. These two components help your skin retain moisture and stay healthy. There are also antioxidants in sunflower oil, which help to reduce premature aging as well!
Avocados are loaded with healthy fatty acids and vitamin E, just like sunflower oil! Using avocado extract in a moisturizer helps to keep the skin hydrated by locking in the skin's natural moisture. Avocado can also help reduce inflammation in the skin topically.
Aquacell
This is the other huge component of the Facial Moisturizer that helps it be gentle and effective. Aquacell is a special blend of superfood extracts created from watermelon, lentils, and apples that boosts your skin's natural hydration levels. This process of base hydration also helps to plump up and smooth out fine lines and wrinkles.
What To Look For In A Moisturizer
If you're like us, you're super picky about what goes into your skincare products. Here at Rejuvaskin, we believe that skincare should be light, non-irritating, and super effective. If the product doesn't work well enough, it's not worth its place in your skincare routine! So, we always recommend finding skincare products that are water-based and that contain superfood extracts and other natural ingredients. 
When it comes to keeping your skin healthy, the simpler the better.