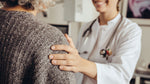 Rejuvaskin Skin Recovery Cream and SRC Sample Program
At Rejuvaskin, we know how important skin health is because that's what we think about all day, every day. And we've been doing it for the last 30 years. We have to, in order to be the company we want to be. Our goal is to make the journey to healthy skin as easy as possible for everyone and anyone. That means finding potential issues and developing high quality, effective products that resolve them. That's the driving force behind the development of our most recent product: Skin Recovery Cream.
Why Rejuvaskin's Skin Recovery Cream for Radiation Relief?
Nearly 85% of individuals who undergo radiation therapy experience moderate to severe skin reactions during their treatment. Many of your patients deal with skin irritation, redness, soreness, or itching. The most dangerous side effect though is missed treatments. As a skin healing company, we take that to heart. We believe it is our responsibility to help do something about it. So, we focused our experience, energy, and resources in to creating a solution. The result – our innovative skin recovery cream and developed a sample program for your patients.
What's in the Skin Recovery Cream?
Our Skin Recovery Cream is made for individuals who experience the adverse effects of radiation. The formula combines ingredients that help soothe and nourish the skin without causing further irritation. It also is free of fragrance and preservatives that may cause a reaction. We included many familiar ingredients such as calendula, aloe leaf, and hyaluronic acid proven to soothe and moisturize skin. The recovery cream also contains a proprietary blend of bamboo, pea, and glucosamine which is a proven precursor to collagen formation. Collagen is key to the growth and repair of the skin.
How to use Rejuvaskin's Skin Recovery Cream for Radiation Relief?
We combined all of these ingredients in to an aqueous cream that helps effectively deliver essential nutrients to the skin. This product works best when used two weeks prior to the first treatment. This helps condition and prepare the skin for the upcoming therapy. Afterwards, we recommend applying the cream 3-4 times a day to the affected area. We do advise not to use the Skin Recovery Cream within one hour of any radiation session.
The Sample Program
To help give you and your patients confidence in the Skin Recovery Cream we put together a free sample program. Simply sign up and we will send you free samples and coupons for your patients. You'll get information about the product to share and samples to pass out in new patient kits, share in exam rooms, or to display in the waiting area. The program is completely free to you and there's no limit on how many times you can re-enroll. 
Visit our SRC Sample Program Page to sign up!